Over time, cars experience wear and tear and need maintenance or repairs. When you're looking for a service and parts center and are wondering, "Where is a service center near me?" visit us at Heartland Chrysler Dodge Jeep® RAM. Our professionals will take care of you and your vehicle while you're here. Our Excelsior Springs Jeep dealers also have a wide selection of used cars and RAM trucks for sale. But why is service so important, and why should you visit our dealership for car service?
Why Car Service Is Important
Regular maintenance services, such as oil changes, tire services, battery checks, and fluid top-offs, ensure that your car has a long lifespan. These regular services not only provide important upkeep, but they also give you an opportunity to have a mechanic check out your vehicle for other health problems.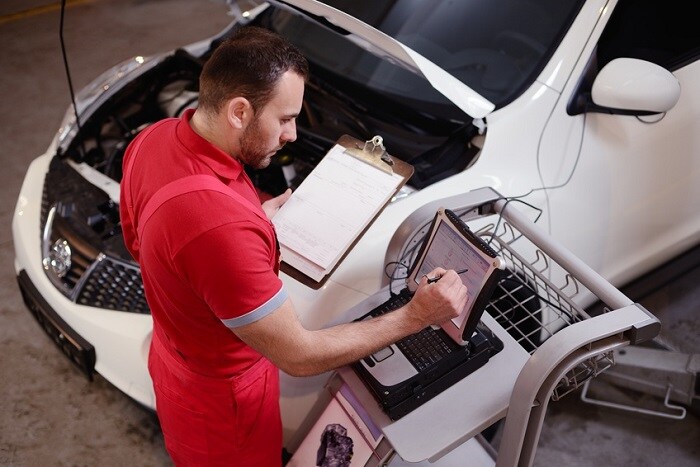 In addition to regular maintenance, your vehicle will need other services from time to time. These can include brake pad changes, battery replacement, tire replacement, and more. Our Missouri RAM dealers are ready to help you with any service needs you may have.
Why Visit Our Service and Parts Center
Our Dodge service and parts center stands out in quality and customer service. When you visit our dealership, we provide a drop-off service, a shuttle service, rental vehicles, and more to ensure your life doesn't stop just because your Dodge RAM 1500 is being serviced.
We can service your vehicle whether it's a truck, SUV, or car, and you'll be in and out in no time. We are committed to using Mopar performance parts and accessories, so you know you're getting quality products should you need anything replaced.
Our service center is open six days a week: 7:00 am to 6:00 pm from Monday through Friday, and 8:00 am to 1:00 pm on Saturday.
You can schedule a service appointment online today with our Jeep and RAM dealers, serving the North Kansas City and Kansas City areas in addition to Excelsior Springs. We also have service specials for your Dodge car to take advantage of now. Make sure you keep up with all the services your vehicle requires this year, and you'll enjoy a much longer life with the car you love.