Exclusively at Heartland Chrysler Dodge Jeep Ram - Receive a FREE Lifetime Powertrain Warranty with purchase of New or Used Vehicle!
*See bottom of page for full list of exclusions. See dealer for details.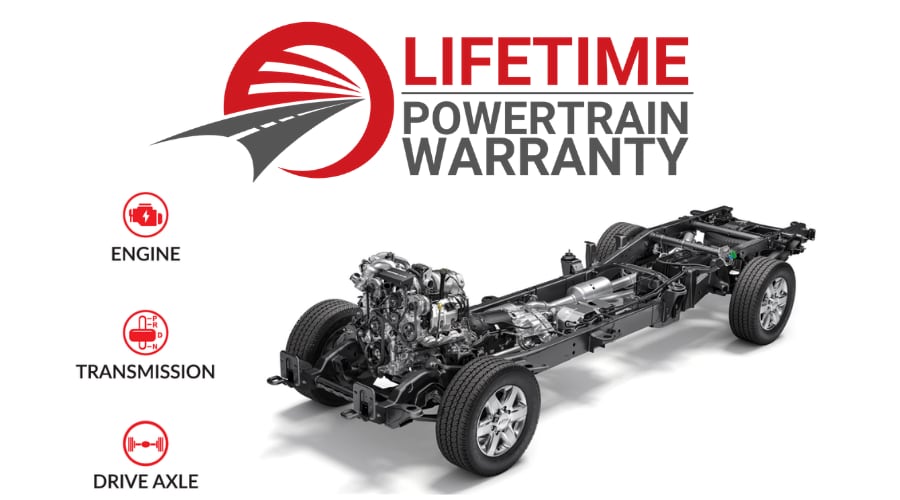 Frequently Asked Questions:
Q.  Can I file a claim for the Lifetime Powertrain Warranty at any service center or body shop in the United States? 
Answer: YES! Anywhere in the United States as long as the service facility has ASE Certified Technicians.
Q.  What are the exact coverages of the Lifetime Powertrain Warranty? 
Answer: The warranty nearly matches the manufacturer's powertrain warranty for the duration that the original purchaser owns the vehicle.
Q.  Does the Lifetime Powertrain Warranty have maintenance requirements?
Answer: YES! You must do the recommended maintenance that is in your owner's manual AND you must keep your receipts either physically or electronically. 
Q.  Do you need to do all the maintenance at Heartland CDJR?
Answer: NO! You can take it anywhere to do your recommended maintenance. Just keep the receipts! If you do the maintenance here, we keep the receipts for you!
Q.  Will a vehicle with modifications qualify for a valid Lifetime Powertrain Warranty?
Answer:  Depends. The engine, transmission and exhaust cannot be modified. Lifted vehicles cannot be over 4 inches.
Q.  Is there any deductibles or customer pay? 
Answer: Yes. there is a $100 deductible.
          Q.  Can the customer use the vehicle for commercial use?
Answer: No. Any vehicle classified as a Fleet or Commercial vehicle does not qualify for the Lifetime Powertrain Warranty. Any vehicle purchased with intent to be used for business is also excluded.
Q.  Which vehicles come with a Lifetime Warranty?
Answer: The warranty applies to ALL qualifying New and Used vehicles. Used vehicles must be 8 years of age or newer and under 100,000 miles. New vehicles must not have modifications or engine specifications that would void the warranty.
Q.  How long is the Lifetime Warranty really good for?
Answer: The Heartland Lifetime Warranty is valid for as long as the original buyer owns the vehicle and for unlimited time and unlimited miles.
Q.  Is there any extra maintenance required to maintain the warranty?
Answer: NO! You must simply follow the Manufacturer's Recommended Maintenance as referred to in the owner's manual for that qualifying vehicle.
Q.  What's the catch?
Answer: NO CATCH! No hidden fees, no surprises, no gimmicks. Heartland CDJR provides this product as an added value to our customers for doing business with us. Get the peace of mind when purchasing your next new vehicle from us! For complete details on the Lifetime Powertrain Limited Warranty, please contact us or better yet, stop by and see us!